Black Onyx Skull Silver Bracelet
black onyx stone sterling silver skull & bone bracelet ~New
100% Solid sterling silver, polished.
Features the official .925 trademark stamp on the clasp.
Bracelet Link Width:

 

11 mm
Weight of Bracelet:

 

40 grams
Links made of genuine black onyx stones.
A distinctly devilish design, our Black Onyx Silver Skull bracelet is sure to thrill anyone with a penchant for skulls.Featuring genuine black onyx stones across each link of the bracelet clasped by two strong, intricately carved skeleton hands either end and a raging skull bang in the middle, this statement piece of jewellery promises to dominate your wrist, amplifying and accentuating your biker style wherever you roam.
Produced using the finest 100% solid sterling silver, you can rest-assured this deadly skull bracelet will live on for years to come.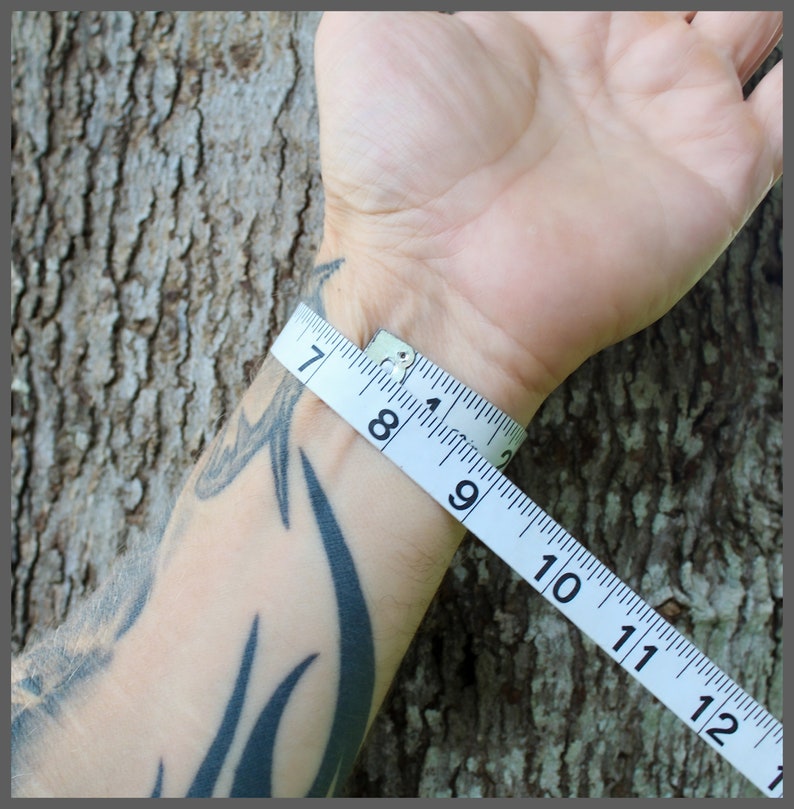 Handmade 
Bracelets
How do you measure your wrist size? 
Download Your Printable Sheet: Size Guide.
Rings
How to measure your finger size?
Download your printable Ring Size Guide sheet here.
| | | | | |
| --- | --- | --- | --- | --- |
| Inner ring circumference(mm) | Inner ring circumference(inch) | US | UK | EU |
| 40.8 | 1.61 | 1 | C | 41 |
| 41.9 | 1.64 | 2 | D | 42 |
| 42.9 | 1.68 | 2.5 | E | 43 |
| 44 | 1.73 | 3 | F | 44 |
| 45 | 1.77 | 3.5 | G | 45 |
| 46.1 | 1.81 | 3.5~4 | G~H | 46 |
| 47.1 | 1.85 | 4~4.5 | H~I | 47 |
| 48.2 | 1.90 | 4.5~5 | I~J | 48 |
| 49.2 | 1.94 | 5 | J | 49 |
| 50.3 | 1.98 | 5.5 | K | 50 |
| 51.3 | 2.02 | 6 | L | 51 |
| 52.4 | 2.06 | 6.5 | L~M | 52 |
| 53.4 | 2.1 | 6.5~7 | M~N | 53 |
| 54.5 | 2.15 | 7~7.5 | N~O | 54 |
| 55.5 | 2.19 | 7.5~8 | O~P | 55 |
| 56.5 | 2.22 | 8 | P | 56 |
| 57.6 | 2.27 | 8.5 | Q | 57 |
| 58.6 | 2.31 | 9 | R | 58 |
| 59.7 | 2.35 | 9.5 | S | 59 |
| 60.7 | 2.39 | 10 | T | 60 |
| 61.8 | 2.43 | 10~10.5 | T~U | 61 |
| 62.8 | 2.47 | 10.5 | U | 62 |
| 63.9 | 2.52 | 11 | V | 63 |
| 64.9 | 2.56 | 11.5 | W | 64 |
| 66 | 2.6 | 12 | X | 65 |
| 67 | 5.64 | 12.5 | Y | 66 |
| 68 | 5.68 | 13 | Z | 67 |
| 69 | 2.72 | 13.5 |   | 68 |
| 70 | 2.76 | 14 |   | 69 |
| 71.2 | 2.8 | 14.5 |   | 70 |
Necklace